To provide the best experience for our kids and keep them safe, there are requirements for our coaches. All coaches and volunteers that ride with the youth have undergone background checks, concussion training and additional bike skills clinics to provide a safe atmosphere for our kids to learn trail riding skills and have FUN!
Our parent volunteers who ride sweep with the groups are also considered MiSCA Level 1 Coaches. There are three levels of certifications. Level 1 Coach registration is $30 annually and can be completed online.
Coaching Certification Requirements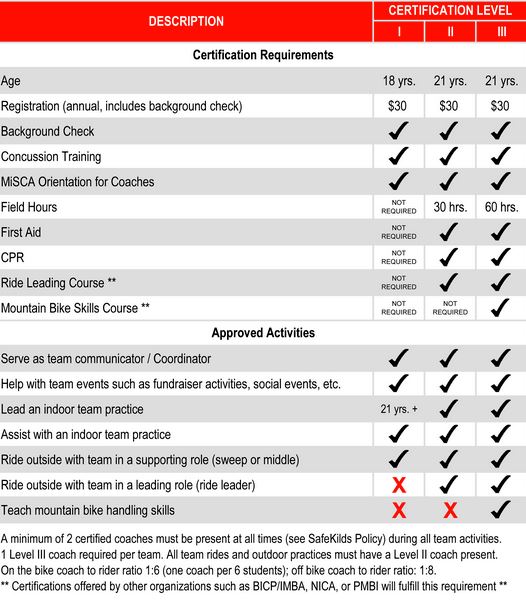 Interested in Coaching?
Just like the youth riders, our coaches are required to be a member of the local bike club, Three Rivers Velo Sport (this covers insurance among other benefits).
Registration for coaches is through MiSCA's online registration system where you will be able to complete your annual registration, complete your background check, concussion management training and register for clinics.

To sign up as a coach:
Create a username and password in SportsSignUpPlay
Fill in your personal information.
If both parents are going to volunteer, the parents will need to register separate accounts.
When you get to registration options, choose Coach & Rider Annual Registration.

Choose the appropriate coaching level and click register. Sweeps are Level 1 Coaches.

Complete your quiz and background check!
If you decide to LEVEL UP
If you decide to level up, in addition to field hours… you will need AHA CPR & First Aid and a ride leading course. We have instructors for each of these, we just need to know you are interested.