Practices are held Tuesdays and Wednesdays from 6 – 8 pm from June 29 to December 1. These practices typically consist of bike handling skills instruction and group trail rides.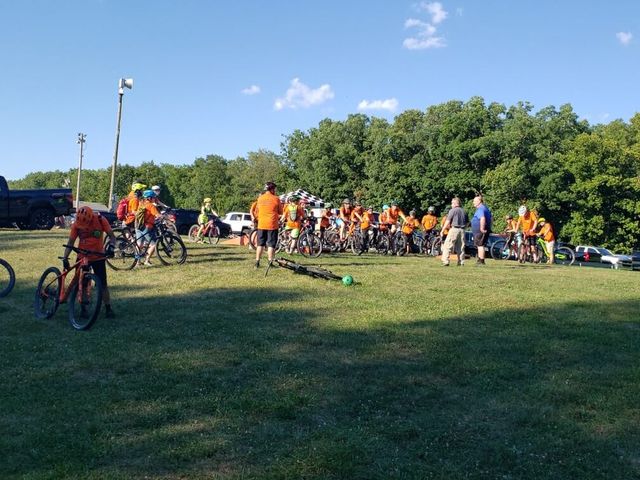 Practices are held at Franke Park in Fort Wayne, Morsches Park in Columbia City, and Winona Trails in Warsaw. Please check the calendar and be sure you are signed up for TeamSnap to be notified of last minute updates.
What do I bring for practice?
Bike – in good working order (with spare tube and basic tools).
Bar plugs – No open bar ends or bar "horns".
Helmet!

Riders must wear a helmet any time they are riding or have a leg over the bike. The helmet should be correctly sized and adjusted to the rider's head. There are a variety of great helmets on the market. The right one for your rider will be comfortable on their head and not move at all.

Team Shirt

Please wear your orange team t-shirt or team jersey to practice. Each rider will receive two orange practice t-shirts. The color of the shirt makes it much easier for us to keep track of everyone in the woods.

Water bottle or hydration pack and food – enough for two hours.

It is our goal that everyone stay safe and have fun, and making sure we've all had enough to eat and drink for our rides is a big part of that.

Repair kit

Each rider should have a pack made up with at least one spare tire tube for their particular size of tire and a method to inflate that tire. Other ideas for items to keep in their packs are: tire levers, a bicycle multi-tool, a small portable bike pump or a CO2 cartridge/inflator.

Bike light (late September – December)

Lights for riding at night are required for fall practices. It is recommended to have a light mounted on the handlebars and a light fixed to the helmet to allow for maximum visibility. We recommend the NiteRider Lumina 750