FAQ: Who can ride with the team? Where and when are practices? How do I register? How do I contact team leadership? How do I get to Franke? How do I get to Morsches? How do I get to Winona? What do I bring to practice? How do I find out about the races and camping?
Who: Pre-K through 12th grade for the 2021/2022 school year (must be able to ride a bike without training wheels).
Where: Franke Park in Fort Wayne, Morsches Park in Columbia City, and Winona Trails in Warsaw.
When: Practices are Tuesdays and Wednesdays from 6 – 8 pm from June 29 to December 1. Check the NEIC Calendar for the location of practices.
Price: $60 first youth rider +$30 for each additional sibling.
The cost includes a $30 3RVS family membership (covers insurance among other benefits) and $30.00 team fee per student rider (helps cover team registration, shirts, and first aid kit supplies).
How to Register
Register through 3RVS website.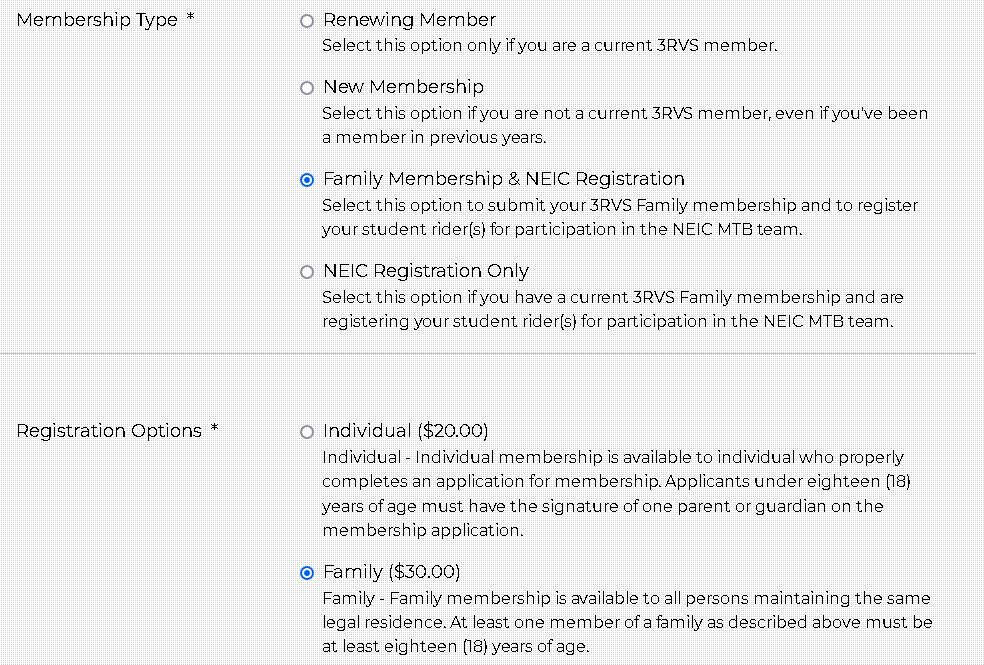 Click on the Family Membership & NEIC Registration. This automatically chooses the family registration option.
Sign up the whole family even if they don't ride yet! 3RVS has social rides throughout the summer and fall that are fun for the whole family.

Choose how many student riders are being registered and then click on the NEIC Registration Page link. This will open a new page where you will tell us information about each rider including their experience level on mountain bikes, t-shirt size and allergies (each rider gets their own page). When that information is all filled out, submit the NEIC MTB Membership pages and you will be back to the page pictured above.
With the NEIC MTB Membership done, you can fill in the check box and click next page to go to the payment portion of the site.
Welcome to the team!
There is so much to learn about mountain biking, racing and being a part of the team. We are here to answer your questions and help you get your family outside enjoying life on two wheels! You can reach us by:
Email: neicmtb@yahoo.com
Text Reminders: TeamSnap. If you do not have TeamSnap, let us know and we will send you an invitation to join.
Website: Check our calendar for the latest events!
Facebook: There is information on our public NEIC MTB Facebook that includes how to find us and posts about mountain bike events happening in our area. If you take a great photo at the events you are welcome to add them to our albums on that site.
We also have a private team Trailblazers Facebook site that helps us organize the camping and fun side of the team events.
Instagram: We also post to NEICMTB Instagram if you want to follow along.
Where and when are we practicing?
Where: Franke Park in Fort Wayne, Morsches Park in Columbia City, and Winona Trails in Warsaw.
When: Practices are Tuesdays and Wednesdays from 6 – 8 pm from June 29 to December 1.
Practices rotate between Franke, Morsches and Winona. The practice calendar has the locations planned for the entire season. Check TeamSnap on your way to practice for any last minute notifications or updates.
Franke Park Trails
Turn into the main entrance for Franke Park/Zoo on Park Drive, then curve left. At the stop sign go straight, past the main pavilion, past the duck pond and up the hill towards the BMX track. Go through the gate at the far side of the BMX lot and turn right at the T. At the end of this road is the parking lot where we gather when we practice at Franke. If you see Traiblazer friends in the BMX lot when you drive through, tell them where we are!
You may have to turn your mode of transportation to bicycle on your navigation when you get close to the park if you try to get turn by turn directions all the way to the lot.
https://goo.gl/maps/zTwJk9JDgk8jFyvt9
Morsches
At Morsches Park in Columbia City, we park in the lot at the very back of the park by the pond.
https://goo.gl/maps/NCndez7b8bKmqDBk8
Winona Lake Trails
Winona Lake Trails in Warsaw has limited parking at the trailhead and our team would quickly overtake the parking lot and leave other mountain bike riding and trail hiking friends no space so we park in the gravel lot at the Miller Athletic Complex on E Pierceton Road.
https://goo.gl/maps/1msVz2GGqwGrbM3q9
What do I bring for practice?
Bike – in good working order (with spare tube and basic tools).
Bar plugs – No open bar ends or bar "horns".
Helmet! Riders must wear a helmet any time they are riding or have a leg over the bike.
Team Shirt – Wear your orange team t-shirt or team jersey to practice.
Water bottle or CamelBak.
Bike light (late September – December)
Snacks
Racing/Camping Opportunities
There are many options for racing or just camping and riding the trails in different locations around Indiana and Michigan. The Trailblazer team is hosting the Zoo Lander race at Franke Park here in Fort Wayne! The racing opportunities and links to the DINO and MiSCA series are listed on our website under Racing. The camping details are under the event section of the private Facebook page so the details are under wraps a bit. If you want to camp with us and don't have access to Facebook, let us know.
There is a cost associated with the races, but the preriding the day or two before is free! Even if you decide not to race, the kids races are always amazing to see. MiSCA races limit the fields to 650 kids and SELL OUT.
Come camp with us, ride the trails and cheer for your teammates on race day!